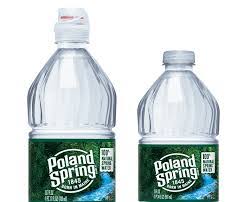 Partnership between FBRI and Poland Spring to explore new bio-based materials in packaging
Poland Spring, University of Maine to explore bio-based materials
The University of Maine's Forest Bioproducts Research Institute (FBRI) is collaborating with Poland Spring Brand 100% Natural Spring Water and its parent company, Nestlé Waters North America, to evaluate and develop bio-based solutions that could serve as alternative packaging for Poland Spring products. As part of the collaboration, UMaine will explore new possible uses of materials derived from sustainably harvested Maine wood.
FBRI represents an interdisciplinary group of researchers and scientists dedicated to advancing understanding and development of forest-based bioproducts. The institute is directed by Hemant Pendse, professor and chair of the Department of Chemical and Biomedical Engineering. FBRI has brought the Maine forest industry and public and private technology innovators together to explore emerging bio-based solutions from materials to chemicals to fuels, demonstrating the exciting possibilities available through advancement of the circular economy.
"UMaine is grateful for Poland Spring's support of our world-leading research, development, and commercialization in this area," says UMaine President Joan Ferrini-Mundy. "Forestry is a cornerstone of Maine's economy, and the Forest Bioproducts Research Institute was created to provide and promote technology validation and partnerships that will meet societal needs for materials, chemicals and fuels in an economically and ecologically sustainable manner.
"This collaboration serves that important mission," says Ferrini-Mundy, "leveraging the expertise of our faculty and staff, and facilitating the engagement of our students in cutting-edge research with important implications for our state and the wider world."
The initiative aligns with the University of Maine System Research and Development Plan.
A news release is online.
Contact: Aly Sturm, 203.629.7233; alyson.sturm@waters.nestle.com; Ashley Forbes, ashley.forbes@maine.edu 
More news coverage of the partnership is covered by news media. Following are some of the coverage links:
WABI TV Chanel 5 story on FBRI Partnership with Poland Spring