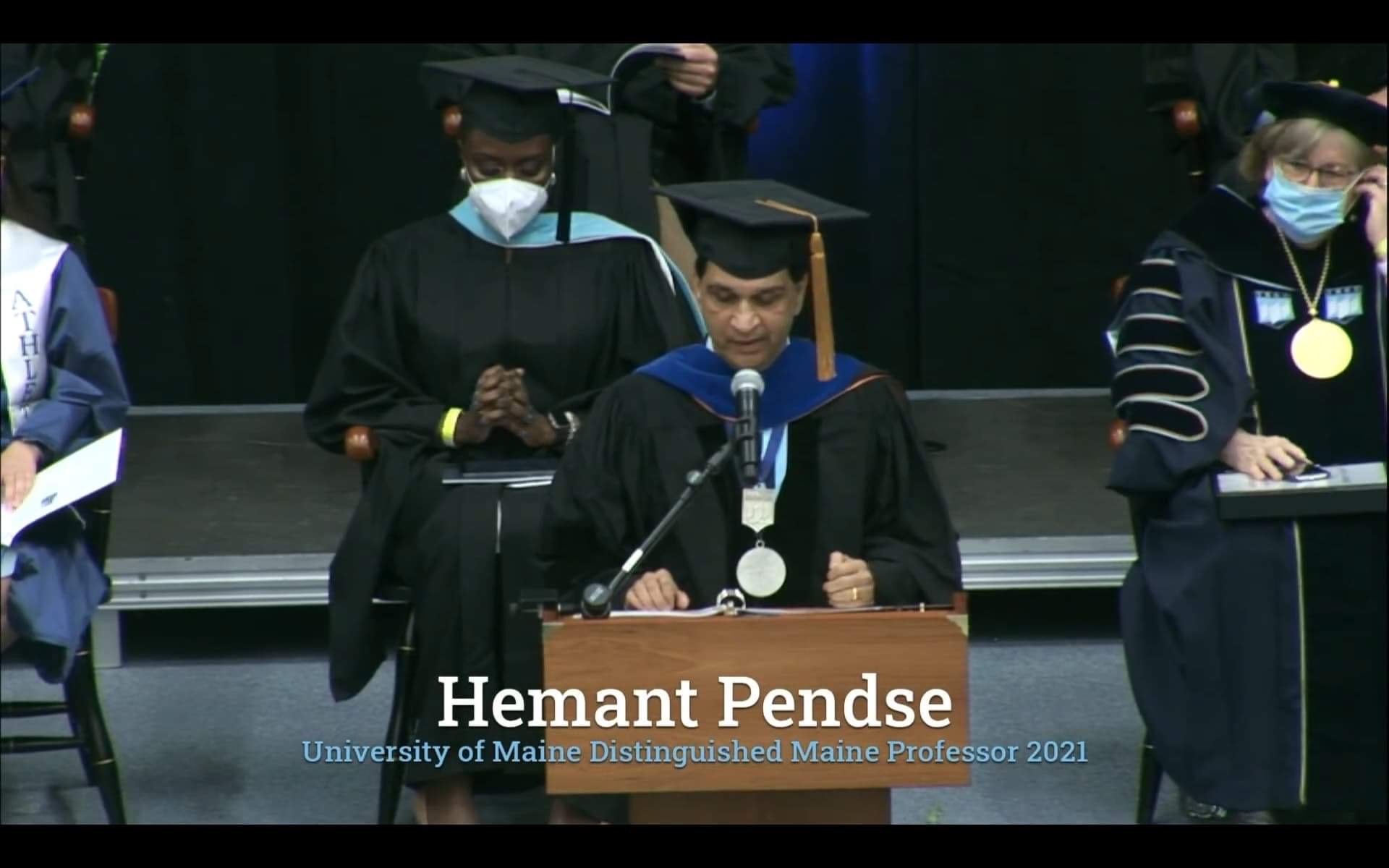 Hemant Pendse, Distinguished Maine Professor's commencement speech to the Class of 2020 and 2021
Sunday, May 8, 2022
Class of 2020 and Class of 2021 Commencement Celebration
President Ferrini-Mundy:
Each year, the University of Maine Alumni Association names the University of Maine Distinguished Maine Professor in recognition of a faculty member who exemplifies the highest qualities of teaching, research and public service.
The 2021 Distinguished Maine Professor is Hemant Pendse, an internationally recognized leader in forest bioproducts research. Hemant has spearheaded innovative research that has earned two patents, garnered $17 million in external funding and yielded new economic opportunities for Maine through his work on forest bioproducts. He founded the Forest Bioproducts Research Institute in 2010, and serves as its director. Under his leadership, FBRI built the nation's first pilot-scale plant for manufacturing nanocellulose. Students know Hemant as an educator who challenges them to think critically, provides clear and concise lessons, is always willing to help, and dedicates himself to their success.
At this time, I invite 2021 Distinguished Maine Professor Hemant Pendse to offer greetings on behalf of the University of Maine faculty.
Hemant Pendse:
Welcome home alumni from the classes of 2020 and 2021.
 Congratulations to everyone who received their degrees during the COVID-19 pandemic and were not able to celebrate this important milestone in person. The UMaine community recognizes how hard you have worked to earn your degrees. You should be proud of your achievements at UMaine and celebrate today. I want to highlight Sierra Yost, from my pre-pandemic junior-level chemical engineering course, who is on the stage today as the 2020 valedictorian.
It is my privilege to join in today's celebration as the recipient of the 2021 Distinguished Maine Professor award for my work as a professor and chair of the chemical and biomedical engineering department, where I have worked for the past 42 years. Last May, I walked across an empty stage in an empty auditorium. It is the biggest honor of my career to receive this award and address you all today in person.
I recognize how difficult it was to complete your degrees remotely. I want to also recognize all your parents, siblings, family and friends who supported you during this unique challenge and who also deserve to celebrate. I am sure you have realized by now that UMaine has prepared you well for the world outside.
UMaine gave us many opportunities to grow and have many broader impacts for the Maine community and the world at large. Striving for new knowledge — new to you, and new to the world — is a noble undertaking, And I commend your efforts. The next step you are all embarking on is to communicate to others on why they should care about something, as much as you do, if not more. This will serve you well in all aspects of your life. Show your passion about your field and the opportunities will continue to arise. Over the past four decades, I have seen many of my brightest students flourish as alumni, and I am proud to see many of them now as my professional colleagues and peers. I hope you continue to engage with the alumni community and know that you will always be part of the UMaine family.
Applause
President Ferrini-Mundy:
 Thank you, Professor Pendse.