FBRI's research areas involve science, inquiry, and product development from the forest floor to the factory floor.
Using National Science Foundation funding to create a Forest Bioproducts Research Institute (FBRI), the University of Maine has marshalled a broad array of scientists as well as business partnerships and research partnerships to create fossil fuel reduction solutions focused on sustainable forest management and the creation of innovative bioproducts. The most talked about bioproducts are fuels like ethanol but perhaps the most dramatic opportunity lies in the fact that almost everything that is now made from petroleum can also be made from wood: fuels, energy, chemicals, composites, coatings, and plastics.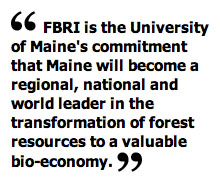 Project faculty and students from the School of Forest Resources are working with Maine's Forest Service on wood supply and management strategies. Social science and resource economics faculty are surveying the state's forest landowners to understand their concerns and needs.
Chemists, engineering and wood scientists are experimenting to unlock high value wood components and then recombine them in products that provide fuels, chemicals, and other wood based products that could all be produced in one location (in a biorefinery).
What Research Challenges Direct Us Toward a Sustainable Bio-Economy?
The need for sustainable production of materials and energy from renewable resources and reduction of greenhouse gas emissions is urgent
Maine's landowners seek new ways to create new markets for underutilized wood species and new options to support Maine's forests as undeveloped landscapes.
Rural communities seek solutions to retrofit local industrial assets in ways that provide employment to current and future generations.
Maine's science and technology community is eager to grow a talented pool of students and researchers who can deliver practical environmental and commercial successes.
Research Projects
Literature Review on Forest Capacity for Fuel Production in Maine and New England
Prehydrolysis of Phenyl Glycosidic Bonds in Wood Chips
Control of Glucomanne Solubility
Enzyme Enhancement in the Production of Microfibrilated Cellulose
Conversion of Hemicellulose Extract into Ethanol