Promote Forest Health for a Stable Bio-Economy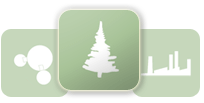 Research Goal: Retain forest health while providing wood for bioproducts.
Woody biomass from our forests will be used to create new bio-products: transportation fuels, wood-based chemicals, consumer products and electrical energy to reduce our reliance on fossil fuels. Innovative uses for sustainably harvested wood have great potential to reinvigorate forest management strategies, help landowners conserve forest lands, and transform industrial facilities into bio-refineries that manufacture many valuable wood products at one location.
Questions Researchers Ask
What are the public perceptions of an emerging forest bioproducts industry? Are biofuels a viable economic option for Maine and the Northeast? How much additional woody biomass is available following conventional harvesting in Maine's forest? How will various management and harvesting strategies affect the forest? What are the attitudes and goals of Maine's forest landowners and the public in relation to biomass harvesting and appropriate forest management?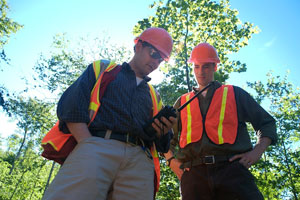 "Maine is the most forested state in our country. Over 90% is covered with forests that host a great variety of plant species and wildlife habitat, thousands of rivers and lakes, and diverse forest products and tourism industries.. The fast evolving field of forest bioproducts offers new economic formulas to support the retention of Maine's forests as undeveloped landscapes."
— Dr. Stephen Shaler, FBRI
Research Projects Supporting This Goal

Literature Review on Forest Capacity for Fuel Production in Maine and New England