Create and Commercialize New Bioproducts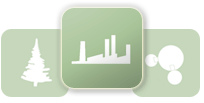 Research Goal: Turn wood components into bioproducts that reach businesses and markets.
Woody biomass from our forests will be used to create new bio-products: transportation fuels, wood-based chemicals, consumer products and electrical energy to reduce our reliance on fossil fuels. Innovative uses for sustainably harvested wood have great potential to reinvigorate forest management strategies, help landowners conserve forest lands, and transform industrial facilities into bio-refineries that manufacture many valuable wood products at one location.
Questions Researchers Ask
What biological processes can be used to efficiently convert wood to desired bioproducts while reducing energy input and chemical activity? Can we develop a process to produce biopolymers that when combined with natural fibers replace inorganic and petroleum based consumer and building products? How would one design and operate a flexible production system (an integrated biorefinery) that can easily make different bioproducts?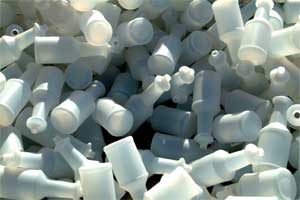 "I think it is almost inevitable that a transformation of the pulp and paper industries will come," says Dr. Adriaan van Heiningen. "I even think if the pulp and paper industry will not do (biorefining), energy companies will."
We're looking at a new field of products that traditionally have not been made in the forest products industry
–Dr. Stephen Shaler, FBRI
Research Projects Supporting This Goal
Conversion of Hemicellulose Extract into Ethanol
Enzyme Enhancement in the Production of Microfibrilated Cellulose