About the Technology Research Center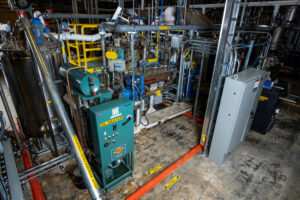 The Technology Research Center (TRC) is a 40,000-square-foot facility, located on the grounds of ND Paper in Old Town, Maine. Dedicated to validation, demonstration, and commercialization support for bioproduct development, the center is a one-stop shop for processing and analysis of technologies at an industrially relevant scale.
Facility Manager
: Amy Luce
Location
: 880 Main Street, Old Town, ME 04468
Mailing and Contact Address
: Amy Luce, Manager, Jenness Hall 143, University of Maine, Orono, ME 04468
Email
: amy.e.luce@maine.edu  
Phone
: 207-581-1453
See our Pilot Plant in action
Technical Capabilities and Processing Equipment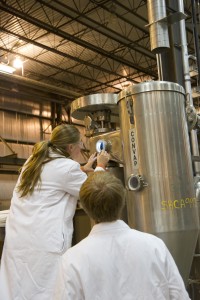 The Technology Research Center (TRC), in Old Town, Maine, is a fee-for-service facility with several pilot-scale unit operations dedicated to advancing developing fuel, chemical and advanced material technologies for processing woody biomass into various bioproducts. The facility meets all necessary approved environmental permitting standards, accepts any cellulosic feedstock and features state-of-the-art process control and process information systems. 
Chemical and physical testing for pilot-scale campaigns
Gas and liquid chromatography
Atomic and molecular spectroscopy
Wet chemical characterization
Analytical method development
In-process and final product material characterization
Multiple-unit operation
Biomass size reduction, screening, pretreatment, extraction and cooking
Fermentation
Chemical reaction
Pelletization
Liquid-liquid extraction
Distillation