Ryan Mills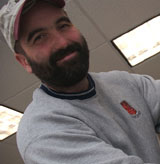 My father is a state certified forester and I grew up managing a few thousand acres of timberland in western Maine. I feel I am helping to preserve the forest resource heritage I grew up with by doing research for wood utilization. As a timber owner I find it exciting learning about the materials growing on my land and possibly enhancing there values. By focusing on research in polymer/wood chemistry and engineering, I feel products could be developed that could possibly be sold in the tourism based ski and golf industry in Bethel, Maine where I live.
My Research
Sheet Molding Compound, (SMC), is a composite material comprised of an unsaturated crosslinked polymer, reinforcing fiber, thermoplastic processing aids, mineral fillers, and lubricant (release agent). SMC reinforced with natural fibers is currently researched to determine if natural fibers compete with synthetic fibers. To achieve the mechanical properties required for the SMC material with natural fibers, the surface energy of the polyester composite and reinforcement needs to be understood. Inverse gas chromatography, (IGC), is a technique that is used to characterize the surface energy and polar characteristics of materials. After determining surface characteristics of the composite and fibers, chemical or mechanical modifications are made to enhance the interaction of the fibers with the composite matrix. After modification, a crosslinked material is made. To test the material, hygrothermal aging is used to accelerate normal environmental aging and dynamic mechanical thermal analysis, (DMTA), is used to study the material changes as a function of hygrothermal aging. Results indicate that the cohesion of natural fibers to the polyester matrix should outperform glass.
In Other Words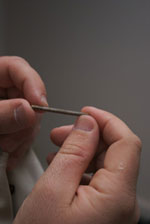 Solids fiberglass plastics are used in the automobile industry for exterior parts. By characterizing woody fiber types, the glass reinforcement may be replaced by natural fibers. This would lighten the car parts and help fuel economy. The fiberglass plastics are a combination of various plastic components. The hemicellulose from wood has the potential of replacing a plastic material used to keep the part from shrinking during processing. The use of hemicellulose would create a market for the Hemicellulose extracted from pulp chips.
Contact Information
AEWC downstairs AFM lab
University of Maine
Orono, ME 04469
Email: Ryan.Mills@umit.maine.edu