Rongxia Li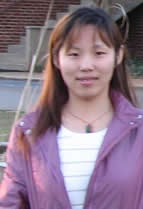 My Research
My research focuses on the development of regional forest growth and yield models for several major tree species in Maine. Individual and stand-level tree volumes can be predicted and calibrated using these models. Statistical analysis and modeling techniques are applied to the modeling process to improve the precision and accuracy of tree volume predictions. I am also interested in using remote sensing and GIS technologies to estimate forest biomass in Maine.
Forestry is a very traditional field. But modern technologies have brought this traditional field into a new stage. Foresters and researchers don't have to count and measure every tree in order to obtain an estimate of the forest production. By using computer simulation and statistical analysis modeling techniques, we can estimate forest current wood volumes and predict the future production within a very small error range. Development of these computer tools will greatly help foresters manage forest lands more efficiently and effectively.
I chose forestry when I was 18. Back then, the beauty of forests (green trees and running brooks) attracted me. Now, I am glad that I can use modern technologies to maintain and develop sustainable forests, which in the long run, will benefit the whole society and the entire planet.
Click to view Rongxia's CV
Contact Information
5755 Nutting Hall, Room 127
University of Maine
Orono, ME 04469
tel: (207) 581-1449
fax: (207) 581-2875
E-mail: rongxia.li@umit.maine.edu