Summer 2007 Program Review
Overview
The UMaine REU Site provided ten undergraduate students with a rich, rewarding ten week summer research experience. Students were mentored by faculty who are senior personnel in the Forest Bioproducts Research Institute.  Participants conducted research advancing their knowledge of sustainable forest bioproducts and gained a detailed understanding of one of the thematic elements of the research effort.  At the conclusion of their experience students reported in both oral and written formats in professionally organized seminars open to faculty and the public.
Students benfitted from weekly seminars taught by FBRI staff, REU "pizza" sessions at Pat's (the place to be), weekly team meetings of all research students and faculty mentors, and the opportunity to discover Maine's superb outdoor recreational assets. Baxter State Park, Mt. Katahdin, and famous fishing and paddling rivers are easily reached north of the campus and Acada State Park and Maine's rugged coast are a short drive eastward. The campus also offers a state of the art fitness center , miles of wooded trails, and easy access to both Orono's and Bangor's restuarants and shopping. Public transportation on campus links students with the city of Bangor, near-by mall stores, and theaters. The UMaine REU site offers a rich experience of research, scholarship, teamwork, and exploration.
REU Students Explore Maine:
Whitewater Rafting
Hiking at Gulf Hagas
Day trips to Acadia National Park
Field Trip to Pulp and Paper Mills…and more!
2007 REU Student Projects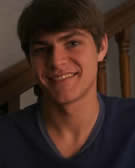 "Biomass Availability in Maine"
Jacob Kavkewitz, University of Tennessee
Project Goals: develop methods to assess the amount of biomass available in Maine and what this volume of biofuel could potentially be renewably produced
Research Methods:
Collection and reconciliation of data on the location and quantity of biomass availability with the potential for biofuel in Maine.
Identifying biomass to biofuel conversions to accomplish accurate estimates of potential ethanol production, revenue and replacement of traditional transportation fuels in Maine and New England.
Conclusions:
Identified the volume of bio-mass removed for Maine's forest and estimated the gallons of ethanol that this volume of bio-mass can potentially produce.
Revealed that renewable transportation fuel generated from removals from Maine's forest have the potential to significantly reduce Maine's dependence on gasoline, as well as provide a significant supply of biofuel to the New England region.
"Characterization of Native and Modified Enzymes for Paper-based Biosensors"
Nimesh Patel, University of Conneticut
Project Goals: a simple colorimetric activity assay was developed enabling the measurement of the acid generating ability (activity) of native and modified enzymes in solution and loaded into relevant paper substrates
Research Methods:
A suitable pH indicator (appropriate pKa for the desired activity range of the enzyme system) was determined from several candidates.
The optical response of the dye in a well controlled aqueous/enzyme system was calibrated using UV-Vis absorption spectroscopy.
A colorimetric analytical scheme based on the optical profile was developed.
Conclusions:
Resorcinol Blue was selected as the pH indicator.
The ideal initial concentration of enzyme was determined to be 0.73mM.
The reaction was successfully demonstrated on paper.
Conjugation chemistry was carried out.
Conjugated enzyme experience no drop in production.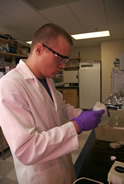 "Optimization of Soil Block Assay Techniques and the Analysis of the Effect of Fenton Chemistry on Cellulose Crystallinity "
Stewart Gramlich, University of Maine
Project Goals: to investigate how various fungal species are able to colonize and chemically modify lignocellulose
Research Methods:
Avicel Studies – Two separate trials were set up to see if Avicel behaved the same way wood powder would under a non-enzymatic decay system.
Wood Powder Time Study – Hydrogen peroxide added daily over 15 days to samples. Study created in order to analyze the affects of hydrogen peroxide on wood powder in the absence of oxalate acid.
Soil Block Assay Study – Soil components were mixed in twelve different permutations and tested for water-holding capacity and pH
Conclusions:
Avicel Studies – Suggests Fenton chemistry alone is not sufficient to have a pronounced affect on crystalline structure
Wood Powder Time Study – Results from the wood powder time study suggest that the addition of iron increases the rate of Fenton chemistry.
Soil Block Assay Study – Much more work can be done to further investigate possible soil improvements
"Modeling Ligand Interactions with Lignin-Eating Enzymes"
Andru O'Farrill, University of Colorado
Project Goals: model interactions of lignin-eating xylanase and laccase with both substrates and inhibitors
Research Methods:
Employ the AutoDock software package to model interactions (binding site, conformation and energetics) between the two enzymes and various ligands
The ligands investigated were: HBT, xylobiose, xylotriose, 4-methoxyphenyl-B-D-glucopyranoside, and coniferin
Conclusions:
HBT acts as a synthetic mediator in xylanase
The two carbohydrate-lignin model compounds acted as competitive inhibitors to both laccase and xylanase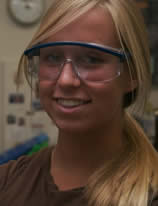 "Acetic Acid Inhibition of E. coli K011 during Fermentation"
Brittany Oetter, University of Colorado
Project Goals: A genetically engineered strain of E. coli (E. coli KO11) was employed to determine if E. coli KO11 displays resistance to acetic acid.
Research Methods:
The extent of ethanol production of fermentations performed with varying initial acetic acid concentrations was determined
8 batch fermentations were carried out with initial acetic acid concentrations in the range 0 to 30.4 g/L
Samples were collected every 2-3 hours (during the day) for 75 hours
HPLC was employed to analyze the samples for concentrations of sugars, ethanol, and acids
Conclusions:
E. coli KO11exhibited a mild inhibitory response to acetic acid during the first 10-24 hours
After 24 hours the inhibition was far less pronounced and ethanol production increased significantly
E. coli KO11 did not demonstrate good tolerance at the highest acetic acid concentration employed, 30.4 g/L acetic acid
"Atomic Force Microscopy and Applications to Nanofibrillated Cellulose (NFC)"
Ryan Lena, Tufts University
Project Goals: to produce nanofibrillated cellulose (NFC) from soft wood pulp by applying high shearing forces to the fibers
Research Methods:
Aqueous solutions of wood pulp were enzymatically treated and subsequently subjected to shear in a Kady Mill and an homogenizer.
Samples were analyzed by Atomic Force Microscopy (AFM) after screening the solution with a fine mesh to remove residual larger fibrils
Drops of solution were dried on glass slides, and then scanned using an Asylum AFM
The diameter of the fibrils was measured via image analysis
Conclusions:
The Kady mill does not affect the degree of overall fibrillation, but may play important role in producing active sites for enzyme modification
Most nanofibrillation occurred within the first 3 passes through the homogenizer, with only minor increases in fibrillation occurring with further passes
"Life Cycle Inventory on the Production of OSB in the Northeast United States"
Nathaniel Vacanti, University of Conneticut
Project Goals: a life cycle inventory was performed on the production of oriented strand board (OSB) in the northeastern United States with the goal of isolating the components of the overall process that cause the most harm to the environment and suggesting possible ways to improve them
Research Methods:
Data gathered in survey form from an OSB mill in Houlton, Maine was used to assign values to the parameters in a model
A model was developed in the commercial LCI software SimaPro
The outputs of the model were recorded and analyzed bearing in mind possible changes that could occur when the model is expanded
Conclusions:
It was determined that the choice of resin has the greatest impact on human health.
An adaptable model for the production of OSB was created that can be used to study the environmental impacts of the process now and in the future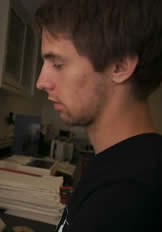 "Modified Kraft Pulping: A Physical Properties Comparison"
Gracson Andrews, University of Colorado
Project Goals: to test the physical properties of paper made from fibers that have undergone pre-extraction and subsequent re-adsorption of hemicelluloses after pulping
Research Methods:
Handsheets of pre-extracted and control pulps were produced for both softwood and hardwood pulps
Handsheets were tested for tensile strength, tear strength, burst strength, and fold strength compared
The effect of the extent of fiber refining (beating) on paper strength was determined
Conclusions:
Pre-extraction and re-adsorption benefit physical properties in most cases
Pre-extraction and adsorption increase beatability
Softwood pulps show extremely promising results
Hardwood pulps show improvements in most measurables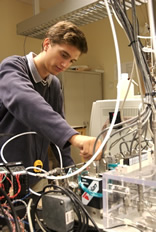 "A GC/MS Microreactor System for Exploring Pore size Effects in Reactions on Mesoporous Catalysts"
Alex Canney, Pensacola Christian College
Project Goals: To develop a method for measuring the catalyst activity and mechanisms for decomposition of alcohols.  This will subsequently lead to identifying a pore size effect for decomposition of larger molecules in mesoporous WO3 catalysts and facilitate the conversion of syngas produced from biomass into alkanes for fuels and other uses
Research Methods: Develop a microreactor system using a GC/MS to quantify the turn over frequencies in heterogeneous catalytic reactions in a packed bed reactor
Conclusions:
Calibrated the delivery system and quantified alcohol concentrations w/GCMS
Modified instrumentation and sampling procedures to achieve: thermal stability, equilibration in VLE bubbler, and steady-state flows/pressures/concentrations
Prepared SiO2 support material and characterized the pressure drop through the bed
Quantified conversion of methanol and butanol vs. reactor temperature on silica packing