Justin Crouse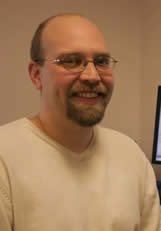 Justin Crouse is a research assistant on staff with the FBRI.  He received a B.A. in Biology from Wesleyan University in 1995.  Since then, he has worked as a research technician at Children's Hospital in Boston, taught biology at North Shore Community College in Lynn, MA, studied mechanical engineering and worked as a research assistant at UM's AEWC Center.
My Research
I am part of FBRI's technical staff.  My job is to assist faculty and students in their research efforts by making sure our state-of-the-art equipment is working properly and used appropriately.  I also look for opportunities to take successful experiments in the laboratory to a larger scale in hopes that the scale-up process will lead to successful factory production of biofuels, polymers, and industrial chemicals.
Click to view Justin's CV
In Other Words
For example, if a graduate student needed to use a centrifuge for his research on hemicellulose purification, I would assist by providing training and advice on the use of centrifugation technique.  I would also create a system of scheduling the use of the centrifuge so researchers can plan their experiments and share the research equipment.
Contact Information
5737 Jenness Hall, Room 101
University of Maine
Orono, ME 04469
tel: (207) 581-2227
E-mail: justin.crouse@umit.maine.edu