Jeff Benjamin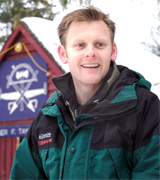 My Research
I am comparing biomass harvest systems and vegetative management treatments for rehabilitation of low value beechdominated hardwood stands. A factorial combination of two harvest systems, three stand conditions and three vegetation management treatments are proposed to compare feasibility, cost, and efficacy of rehabilitating young beechdominated stands in Maine.
Click to view Jeff's CV
In Other Words
My interest lies in developing harvesting methods to supply raw material for bioenergy and bioproducts in a cost effective and sustainable manner.
Contact Information
247 Nutting Hall
University of Maine
Orono, ME 04469
tel: (207) 581-2727
E-mail: jeff_benjamin@umenfa.maine.edu