A message from FBRI director Hemant Pendse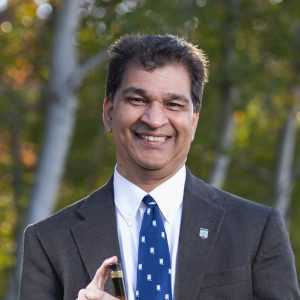 The promise of biobased materials is expansive and exciting. Virtually anything can be made using renewable materials derived from plants, and our mission at the Forest Bioproducts Research Institute is to help realize that potential.
We have come a long way toward that goal since 2002, the year the concept that would become FBRI was first conceived, and even further in the decade since FBRI was formally established in 2010. Our work has crystallized around three core areas: fuels, chemicals, and advanced materials.
Today, FBRI research on wood-based biofuels, based out of the Technology Research Center in Old Town, Maine, is globally recognized. FBRI researchers are innovating new uses for nanocellulose in areas from biomedicine to building products with cellulose nanofibers produced at the Process Development Center.
The breadth of UMaine's research in these areas shows FBRI's true strength: people and partnerships. The institute represents an interdisciplinary group of researchers and scientists, including many students, dedicated to advancing understanding and development of forest bioproducts. Their efforts, coupled with strong support from external partners in government and private industry, have led to many advances, with many more to come.   
Our work is driven by the urgent need for sustainable production of materials and energy from renewable resources and the reduction of greenhouse gas emissions. As well, the opportunity to create new markets for underutilized wood resources and new options to support Maine's sustainable forests as undeveloped landscapes and invigorate Maine's forest products industry through market diversity.
The creation and commercialization of bioproducts also supports Maine's rural forest communities, offering opportunities to retrofit local industrial assets in ways that provide employment to current and future generations — and FBRI is helping to grow that talent pool of students and researchers who can deliver practical environmental and commercial successes.
The future is bright. Major equipment upgrades to the Technology Research Center and Process Development Center will demonstrate that novel forest bioproducts can be manufactured at a commercially relevant scale in a continuous process. These bioproducts can replace fossil-fuel derived counterparts in existing markets and, we hope, inspire the creation of an integrated biorefinery right here in Maine and across the globe. Our work over the last decade is a testament to the kind of innovation that public-private partnerships can drive, and we remain focused on meeting the evolving needs of a society that values renewable resources.
Learn about the origins of the Forest Bioproducts Research Initiative