Gloria Oporto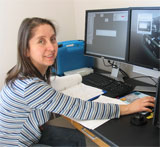 During my whole life I have been in contact with the forest. I used to live in the forest Region of Chile (my country) and I have clear memories of my brothers, cousins and myself playing hide-and-seek in the middle of large trees during a windy day. It is impossible to forget the beauty view of the Pacific sea from those trees. After finishing my career I always was involved in projects related to forest and particularly wood. I love it.
My Research
The main objective of my research is to study the feasibility to use extruded wood plastic composite (WPC) as structural component in the construction area. The improvements will be conducted through WPC surface modification and WPC bulk modification. The preliminary work consisted in to improve the adhesive properties of this material through the modification of it surface using chemical, mechanical, energetic and a combination of physical and energetic treatments.
The next step will consist in: 1) to combine surface treatments, optimize the treatment and to evaluate WPC composites bondability to FRP materials. The WPC bulk modification will consist in to modify the WPC extrusion formulation and to optimize the mix for improving MOE, MOR and creep properties of the final material.
In Other Words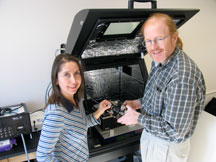 The main objective of my research is to improve the resistance of extruded wood plastic composites modifying their surface and gluing them to specific reinforcing materials or modifying their bulk properties changing the compositions and/or chemicals used in their formulations.
Contact Information
5793 AEWC Building, Room 209
University of Maine
Orono, ME 04469
Phone: (207) 581-2117
Gloria.oporto@umit.maine.edu