Ana Zivanovic
My Research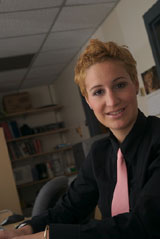 I am working with Dr. Terry Porter on the evaluation of the social acceptability of the forest bioproducts industry. We are a part of larger interdisciplinary team that as a whole is dedicated to systematic analysis of the many stakeholders that will affect and be affected by the emergence of a bioproducts industry in the state.
Dr. Porter and I are particularly concentrated on secondary stakeholders such as community members, activist groups, state officials, or interest groups. My duties involve assisting Dr. Porter with data collection in form of semi-structured interviews, and using different qualitative and quantitative research methods to analyze those data. With interviews we are trying to identify secondary stakeholders' individual and group identities and study their relationship with the forestland. Furthermore, we are trying to discover their possible concerns related to the new industry. In addition I am doing literature review related to forest bioproducts in other parts of the country and the world, and I am assisting with new qualitative data analysis software.
In Other Words
Dr. Porter and I are trying to find out how would a possible forest bioproducts industry affect you – communities and their citizens, small business owners, snowmobilers, hikers, naturalists, environmentalists. By interviewing different people we are trying to get full understanding about their concerns and hopes related to the development of such industry in their community. With this approach we hope that this newly developing industry will better understand what issues need to be addressed according to local communities. At the same time, I am trying to find out the ways a forest bioproducts industry is developed in other parts of the United States and the world by reviewing different national and international web sites.

Contact Information